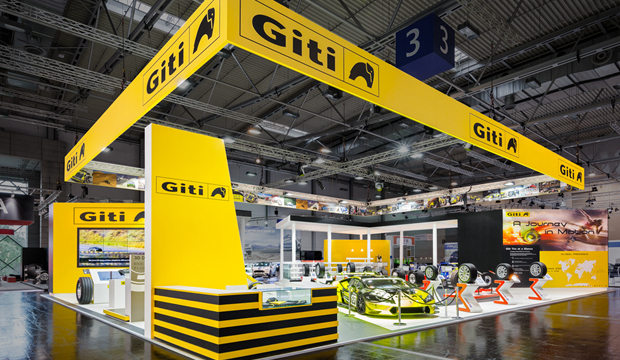 Giti Tire showcased a wide range of new products, interactive multi-media displays, and much more in its large display at Reifen Essen 2016 in Essen, Germany. Held from May 24th-27th, Reifen Essen is the largest tire show in Europe. With thousands of important industry visitors from around the world, Giti Tire stood out among top competitors with a large and premium stand.

For the first time at a European expo, Giti Tire's logo and corporate colors were displayed as part of the company's plan to raise its profile worldwide in support of global infrastructure projects, motorsports, and Giti brand that is expanding globally. Giti's presence at the Expo also included the launch of its flagship Giti brand in the TBR (truck and bus) category in Europe. The strategic initiative, which will replace GT Radial through a mixture of new tires and re-labelling of existing successful products, will begin immediately and be fully implemented in the region in 2017.

A mix of premium Giti PCR and TBR tires (including unveiling of the Giti GDR655 regional drive axle and Giti GAM851 mixed-service steer and trailer tires) were on display. Tires each included stands with videos and iPads to explain the features and benefits of each product. Giti Runflat tires were also displayed to demonstrate the company's advanced technological capabilities, and GT Radial was also present through new products that included SportActive , Maxmiler WT2, and Champiro FE1.

The winning Giti Lamborghini Huracan from the recent Sepang 12 Hours Endurance race was positioned in the middle of the showcase, to display Giti Tire's commitment to motorsports and how it benefits overall R&D activities. Together with the Lamborghini, Giti has also presented GTR1 and GTR2 motorsport tires as part of the display.

A giant video wall also contributed to give a premium image, and support the multimedia approach of the stand. The look and feel of the stand was oriented to demonstrate the racing and motorsport DNA of the Giti brand. The appealing booth was completed with elements such as virtual reality experience through "oculus" glasses. The gaming area with a 360 degree "ride and drive" simulation in Silverstone F1 circuit has represented a successful novelty and helped to attract visitors to the stand.

Through the fully branded combination of a full range of new products, unique displays, the launch of Giti TBR tires in the region, and special treats such as Giti's winning Lamborghini and virtual reality racing, the showcase truly offered something for everyone and made a major impact at the exposition.